Putting Passion Into Practice
Asha Patel envisioned a career in education. Pathway to Practice NC helped her to make that career possible.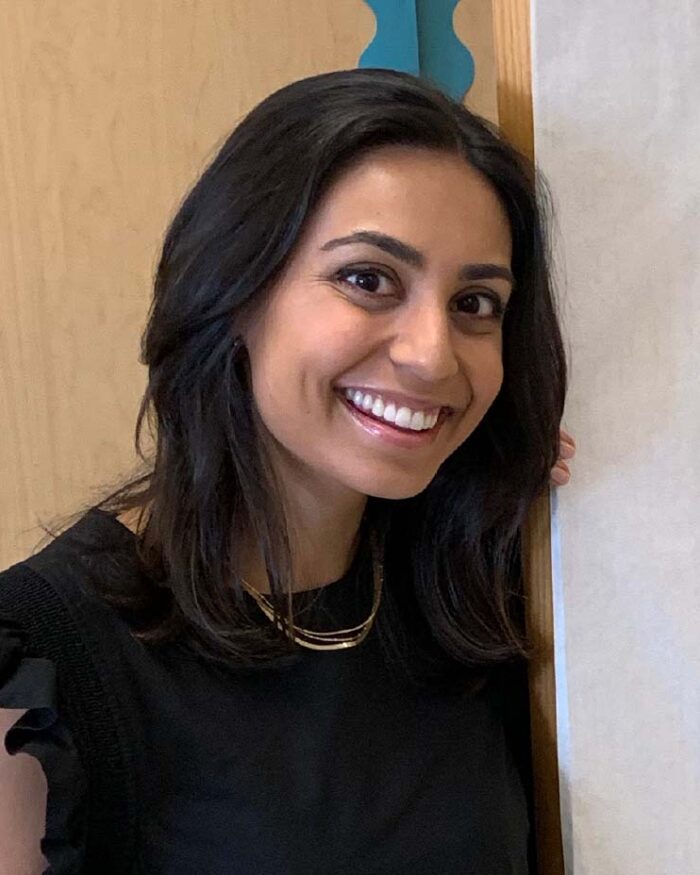 When Asha Patel was a junior at the University of North Carolina at Chapel Hill, a major in business seemed like a path to career success.
But it was during a Maymester course focused on experiential education that Patel "really saw the value of" what she was learning and experiencing, she said. Not long after, she declared a minor in education.
As graduation neared and it came time to apply for jobs, Patel went a route expected of a business school grad: She applied for consulting jobs.
"And then through those interview processes, I realized, 'I have a much higher degree of interest in teaching and education,' so I applied to become a teacher."
"At that point, I didn't have a degree in education, but the mission [of the UNC School of Education] was something that resonated with me."
Patel's job search led her to a lateral entry teaching position — or a residency — at an elementary school in Union County, not far from her hometown of Charlotte. As a residency license teacher, she was hired to teach second grade, but had not yet obtained her full teaching license. To continue teaching, she had to earn that license within her first three years in the classroom.
As she began her first year teaching during the 2020-21 school year, Patel also began Pathway to Practice NC — a 100% online Educator Preparation Program offered by North Carolina State University and UNC-Chapel Hill specifically designed to help residency license teachers earn a full teaching license.
By the end of Patel's first year of teaching, she had completed her Pathway to Practice NC coursework and submitted her edTPA materials. She earned initial full teaching licensure not long after.
A flexible program with working educators in mind
When Pathway to Practice NC launched in 2017, the program's visionaries — UNC School of Education and the NC State College of Education faculty members, renowned researchers, and subject matter experts from the state's top public universities — had residency license teachers like Patel in mind.
In 2015, the State Board of Education reported more than 4,300 lateral entry teachers, now designated as residency license teachers. It also reported that lateral entry teachers leave the profession at a rate 79% greater than other teachers. In 2018, the board reported more than 5,900 lateral entry teachers, an increase of more than 32% since the program was first conceived, and the attrition rate of lateral entry teachers had grown — lateral entry teachers were leaving the profession at a rate 91.5% higher than their non-lateral entry colleagues.
Providing flexible, high-quality instruction and one-on-one support to help Pathway to Practice NC candidates like Patel succeed in the classroom and persist in the profession is imperative for North Carolina schools. Pathway to Practice NC provided her that instruction, support, and flexibility on her way to licensure. 
Living and working in Union County would have meant a two-hour drive to Chapel Hill for Patel to participate in in-person classes. And online classes would have meant blocking out set times in the busy schedule of a new teacher.
"The program has definitely made me a better educator. That's what our kids need right now."

Asha Patel, Pathway to Practice NC alum
"We recognize that first-year teachers face enormous demands and stress," said Alison Winzeler, director of Pathway to Practice NC. "It is no small feat to also pursue a licensure program while teaching."
Pathway to Practice NC provides online, asynchronous modules that Patel could complete when her schedule allowed. Each module was designed for her to embed within her own classroom.
"You're given the autonomy to figure out how this could work in your classroom," Patel said. "And then you implement it, reflect on it to figure out what could have gone better, change your approach, and do it again.
"You're learning the content that they're presenting to you, but you're also learning about yourself as an educator and your students."
Those modules ranged in topic and, ultimately, provide an invaluable set of skills in pedagogy, classroom management, content application, differentiation and strategies for engaging students based upon their age, development, and latest educational research.
Some modules Patel mastered quickly and moved on to the next. For some modules, she took more time to complete.
And along the way, particularly if she needed help mastering one of the modules, she received individual support from her assigned facilitator, Aimee Fraulo. All Pathway to Practice NC facilitators are doctoral candidates at either NC State or UNC-Chapel Hill and are former classroom teachers themselves.
"Aimee was such a huge support system for me," Patel said. "Having that relationship with her was so influential in getting me through that year.
"Aimee was so consistent in her feedback and whenever I needed something she was there to help. In addition to getting us licensed, the program is very supportive of us as people."
Navigating edTPA
For any new teacher on their way to licensure, the edTPA can be a daunting step in the process.
One of the final modules of Pathway to Practice NC is totally devoted to that performance assessment.
"The module focused exclusively on edTPA really sets Pathway to Practice NC apart," said Diana Lys, assistant dean for accreditation and educator preparation at the UNC School of Education. "We build edTPA into activities throughout the modules, so there is a foundation in place when it comes time to focus on edTPA."
Patel said the program prepared her well for it, even before that final module.
"I didn't realize this at first, but the way we wrote our lesson plans, no matter what module, were in the edTPA format," she said. "So by the time you get to the edTPA, you're like, 'Oh, I know what I'm doing,' because you've been practicing some of the pieces all along."
Patel passed on her first edTPA attempt. To date, 100% of Pathway to Practice NC completers have passed edTPA; 90% have passed on their first attempt.
"When I turned it in, I felt confident that I did well," she said. "I did do well, and I think that Pathway to Practice was a big reason as to why."
To date, Patel is one of more than 400 residency license teachers — from more than 80 of North Carolina's 115 districts — to enroll in Pathway to Practice NC. Each month, residency license teachers can apply and quickly begin work toward full licensure.
"Pathway to Practice NC really grounded me in why I chose to be a teacher," Patel said. "And my relationship with Aimee gave me so much confidence, support, and encouragement.
"The program has definitely made me a better educator. That's what our kids need right now."
Apply Today.
Admissions are ongoing. Apply today to join our next monthly cohort and to begin the pathway to your teaching license.
Apply Now